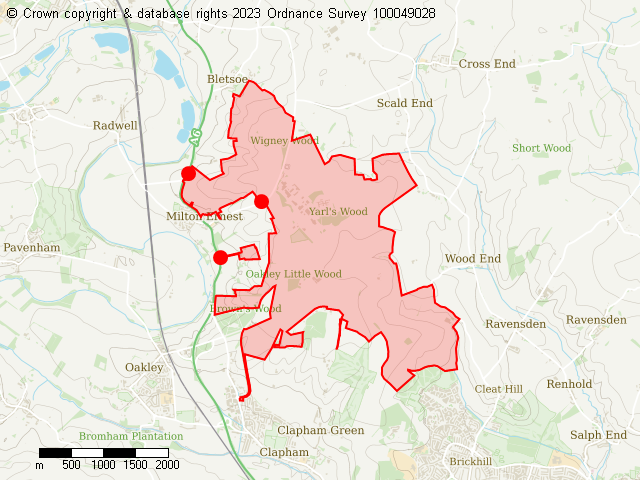 Business Park / Secure Residential Institution / Vacant / Agriculture
Mixed of E-Class Uses, comprising business park, light industrial, and commercial activities associated with town centres
Local retail facilities and a district centre
Covered under mix of E-Class Uses above, 14-20ha
Covered under mix of E-Class Uses above, 14-20ha
Largely covered under mix of E-Class Uses above, 14-20ha
A site of this scale can deliver a range of leisure, recreational and community uses. Whilst the specifics would be agreed through consultation, we propose the land area will form part of the 14-20ha for E-Class Uses referenced above.
Off the A6 and other local roads
We envisage TwinWoods having a full range of facilities and infrastructure to support what will be a significant community in its own right. Our proposals place sustainability and climate change at the forefront of our approach and the development will embrace the different routes to achieving a net zero carbon development. The design and construction of buildings will embed high energy-efficiency and low utilities demand. A potential new railway station at the heart of the community gives opportunities for sustainable travel and relieves pressure on Bedford itself. There is a strong opportunity to bake-in sustainability at the outset, not just with walking and cycling routes and provision of high-quality bus routes, but also the co-location of key activities across the new community. This includes the provision of a range of local jobs on the site within easy commuting distance of homes, so not all residents out-commute each day, as well as strong cultural, recreational and shopping facilities, schools, health and leisure facilities and generous open space in walkable, vibrant, sociable neighbourhoods.
NOTE: This is a large site proposal for a new settlement with complex traffic and transport requirements. Further assessment of the transport impacts has been carried out and published as a supporting document found here www.bedford.gov.uk/LocalPlan2040 Scores are a rough estimate with the Site covering a large area that experiences better accessibility towards the west and south. Access is likely from a number of roads including the A6 north and south of Milton Ernest. A more detailed investigation is required here including the potential infrastructure construction and improvements that could occur from such a large development site. Capacity and junction assessments should be conducted based on the proposed development scale and the fact that congestion is evident around settlements bordering the A6. A significant masterplanning and impact assessment is required for this site. Currently a number of accesses are achievable but more work is required to understand which are likely to operate in the future and how the proposed pedestrian and cyclist infrastructure would serve its purpose.
potential noise from Yarlswood and twinwoods business park
Area of proposed use covers large area at Twinwoods which incorporates Biogen Anaerobic Digestion Plant Site. Area incorporates Pet Crematorium. Area incorporates Wood Waste energy from waste plant. Area incorporates Hazardous waste transfer operation.