Bedford Borough Local Plan 2040 Plan for Submission
Ended on the 29 July 2022
Housing
Local eligibility criteria
At least one of the purchasers of the property should, immediately prior to agreeing terms to purchase, either

Have lived in Bedford borough for at least three of the last five years or
Have a close relative (mother, father, adult children, sister, brother, grandparents, grandchildren or corresponding step relations) who has lived in Bedford borough for at least three years or
Be employed full or part time (at least 16 hours per week on average) at a place of work in Bedford borough for at least the last twelve weeks or
Be a member of the Armed Forces, a spouse or civil partner of a deceased member of the armed forces (if their death was wholly or partly caused by their service) or a veteran within 5 years of leaving the armed forces or
Be a key worker who works in health, education, the police or Local Government.
First Homes discount
Affordable Housing Review mechanisms.
Housing mix
First Homes Exception Sites
Self-build and Custom Housebuilding
the building or completion by-
individuals,
associations of individuals, or
persons working with or for individuals or associations of individuals, of houses to be occupied as homes by those individuals.
Part 1 – requires evidence from the individual or association to demonstrate a defined local connection to the area. Registrants on part 1 will be given first refusal on self-build plots that become available in the borough either through the application of Policy DM5 (below) or as a result of the Council disposing of its own land (where it is suitable for and is being disposed of for self- build).
Part 2 – Other individuals or associations that have an interest in self-build plots in the borough but who do not have the required local connection to the area. Any plots that are available but are not taken up by anyone on part 1 of the register will then be offered to those on part 2 before being more widely marketed.
Quality of development and space standards
Sustainable Drainage System SPD 2018
Parking Standards for Sustainable Communities SPD 2014
Open Space SPD 2013
Shopfronts and Advertisements in Conservation Areas SPD 2005
Achieving Quality in Residential Layouts SPG 1997
Residential Extensions, New Dwellings and Small Infill Developments SPG 2000
Houses in Multiple Occupation SPD 2020
Current National Guidance
Nationally Described Space Standards
Natural environment
What is biodiversity net gain?
What is Natural Capital?
Environmental net gain
Environmental net gain = biodiversity net gain + natural capital gain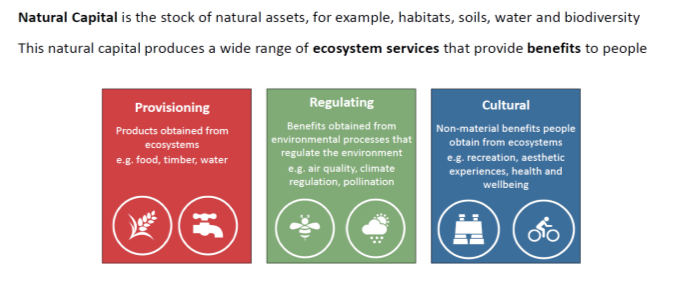 Source: Bedfordshire Natural Capital Assessment, Natural Capital Solutions
New employment development in the countryside
Horse and Equestrian Activities
Non-designated heritage assets
Outdoor sports space
Cricket
Football
Rugby union
Rugby league
Hockey
Bowls
Tennis
Netball
Athletics
Multi use games areas (MUGA)
Informal sports facilities such as outdoor gyms, trim trails
6.73 The Sport England Playing Pitch Calculator covers football, rugby union, rugby league, hockey and cricket. Tennis and outdoor lawn bowls are not included; the priority is to improve existing tennis and bowls facilities in the borough to increase usage.
(2) 6.74 As a result of this work, there is a need to partially update existing Policy AD28 (Provision of Open Space in New Developments). Standards relating to outdoor sports space are replaced by the following policy. Other open space standards in Policy AD28 have been reviewed and do not need to change.
(2)

Policy DM11 Outdoor sports space in association with development
All new residential development which results in additional dwellings will be required to contribute to additional outdoor sports provision either through the enhancement of existing facilities or provision of new facilities. The Council will have regard to the Sport England Playing Pitch Calculator, the Bedford Playing Pitch Strategy (as amended) and the Council's priorities for sports and leisure, to determine the amount of open space and type of contribution in association with new development.
Where new pitches are provided on-site, the developer will be required to deliver the pitches and the Council's preference is for the ownership of those facilities to be transferred to Bedford Borough Council or a Parish or Town Council.
Where a monetary contribution is sought, this will be collected through a Section106 agreement.
Tall buildings
6.75 When planning tall buildings, it is important to understand the nature of the areas around them, and the impact they would have on heritage assets and historic character of places: the very things that make places distinctive and that people cherish. Tall buildings will generally be located in the town centre. Tall buildings can make a positive contribution to the skyline but in some cases they can also have a lasting adverse impact due to an unsuitable location, poor design, construction or management. Defining what a tall building is depends on the context in which it would be located, and is a building which 'breaks the skyline' and is significantly taller than the prevailing heights of buildings in the area. The Council will prepare an SPD to assist with the application of this policy.
(2)

Policy DM12 Tall buildings
Tall buildings will be located in the urban area. Tall buildings should:
Achieve high architectural quality and innovative design (which includes sustainable design and construction practices); and
Achieve a good relationship to other buildings and structures, the street network / development at street level, public and private open spaces (particularly at street level), and / or other townscape elements and characteristics; and which has ground floor activities; and
Provide a positive contribution to the skyline, when perceived from all angles during both the day and night, ensuring that important local views and vistas are protected; and
Where residential uses are proposed, include high quality and useable private and communal amenity space and ensure an innovative approach to the provision of open space; and
Not adversely impact on sensitive locations such as: heritage assets (both designated and non-designated), local views, or other areas which have been designated as inappropriate for tall buildings; and
Not adversely impact on; the microclimate of the surrounding area, including the proposal site and public spaces, or the biodiversity of open spaces, including watercourses and waterbodies and their hydrology, as well as their settings and views to and from them; and
Provide positive social and economic benefits and contribute to socially balanced and inclusive communities; and
Comply with aviation and navigation operational requirements and not interfere, to an unacceptable degree, with telecommunication, television and radio transmission networks.
---
[16] ID: 63-009-20190626 updated on 26 June 2019
[17] Self-build and Custom Housebuilding Regulations 2016 and the Self-build and Custom Housebuilding (Time for Compliance and fees) Regulations 2016
back to top
back to top